Spitzkoppe Namibia Tours & Excursions:
The magnificent granite outcropping known as Spitzkoppe may be found in the Namib Desert in the African country of Namibia. Spitzkoppe, which is located in Namibia and is well-known for the spectacular and one-of-a-kind rock formations that can be seen there, is a favorite location for travelers who want to enjoy the natural beauty of the country.
Attractions in Spitzkoppe
Granite outcrops provide a significant portion of Spitzkoppe's overall appeal as a tourist destination. The outcropping is composed of a collection of peaks that emerge from the plain of the desert, resulting in a scene that is both distinctive and spectacular. In addition, the granite is home to a number of fascinating rock formations, such as arches, tunnels, and boulders that are balanced on top of one another. The granite formations may be explored by tourists on guided excursions, during which they can get further knowledge about the geology and history of the formations.
Desert views are yet another big draw for tourists to the Spitzkoppe region. The outcropping may be found in the Namib Desert, which is well-known for its distinctive and diverse landscapes, such as its wide desert expanses, red sand dunes, and granite outcroppings. To have a better understanding of the region and its distinctive flora and fauna, tourists may go on guided excursions of the desert.
History
Spitzkoppe is not only known for its natural wonders but also for the many cultural and historical treasures that can be found there. The outcrop was occupied by people as far back as prehistoric times, revealing a lengthy history of human presence there. Rock carvings and paintings created by native Himba and Herero people are on display for tourists to see. These works of art provide a window into the region's history.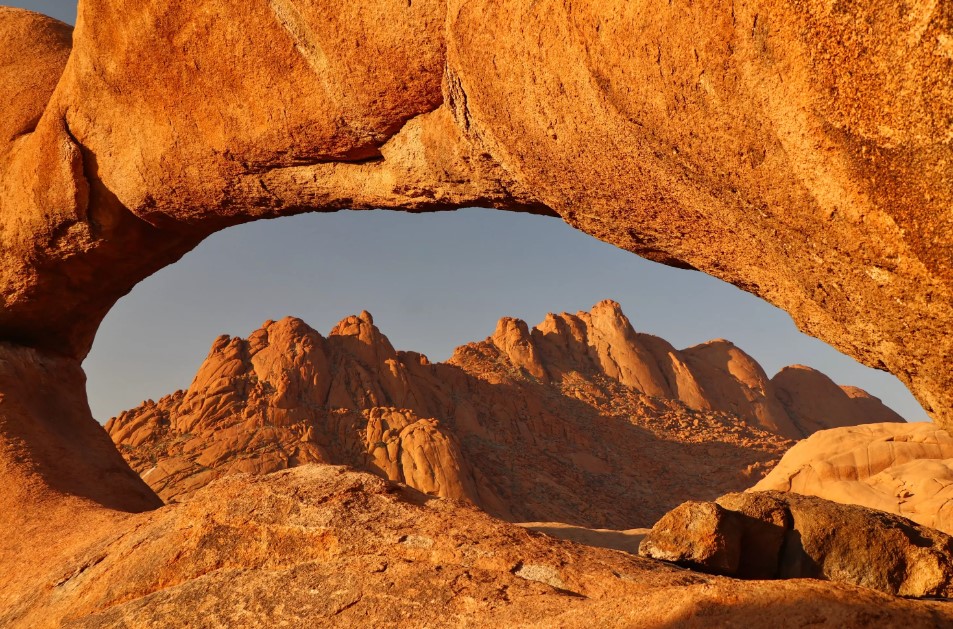 Best time to visit
During the mid year, when temperatures are lower and more bearable, Spitzkoppe is at its most pleasant and offers the ideal conditions for tourists. Temperatures might be anywhere from the middle 70s up to the middle 90s Fahrenheit at this time of year. As a result of the weather being more agreeable and pleasant at this time of year, it is also the ideal time to go exploring the granite formations and desert landscapes.
How to get there
Flying into the international airport that is the closest to Spitzkoppe, which is the Hosea Kutako International Airport in Windhoek, is the quickest and most convenient method to get there. From there, it takes between five and six hours of driving to reach Spitzkoppe. Visitors have the option of taking a bus or a shuttle from Windhoek to Spitzkoppe as another mode of transportation. Once you are in Spitzkoppe, getting about is simple whether you want to drive, ride a bike, or walk.
Conclusion
In conclusion, Spitzkoppe is a remarkable granite outcropping that is stunning in appearance and provides tourists with access to a broad range of activities. Spitzkoppe is an excellent location to visit if you are interested in seeing the natural beauty that Namibia has to offer, and the months of May through September, when it is cooler, are the ideal time to go there.
FAQs
What is Spitzkoppe?
A: It is a granite peak located in Namibia, known for its unique rock formations and geological features.
What makes it a popular tourist destination?
A: It is popular among tourists for its scenic beauty and opportunities for outdoor recreation, including hiking, rock climbing, and camping. Its unique rock formations and remote location make it a popular spot for photography and nature lovers.
What kind of wildlife can be found in Spitzkoppe?
A: It is home to a variety of wildlife, including baboons, hyenas, and various species of birds. The area is also known for its impressive desert landscapes, dotted with desert-adapted plants and trees.
What is the history of Spitzkoppe?
A: It has a rich cultural history, with evidence of human habitation in the area dating back thousands of years. The rock formations have been used by various indigenous groups for religious and spiritual purposes, and the area is considered sacred by many.
How can I get to Spitzkoppe?
A: It is accessible by car from Windhoek or Swakopmund, with well-maintained gravel roads leading to the park. Visitors can also arrange for guided tours from local tour operators.