For photographers, Namibia is the ultimate travel location. The country's remarkable desert sceneries of sand dunes, its rugged mountains, a dramatic canyon, and startling Skeleton Coast, and the unpolluted night skies, along with the striking wildlife and unusual flora (quiver trees are a specific highlight), make it could not be more photogenic. Quiver trees are a particular highlight.
Namibia photographic destinations
The best places to take photographs in Namibia include Etosha National Park for the wildlife, particularly during the winter months when the animals congregate around waterholes; the dunes around Sossusvlei for those classic desert scenes; the petrified trees of Deadvlei; the deserted ghost town of Kolmanskop in southern Namibia for photographs of old houses being swallowed up by sand; and the herds of desert elephants agglomerating in Damaraland.
Be sure to bring along all of the necessary memory cards and batteries since you won't be able to buy any of those things in the majority of Namibia. Because Namibia is home to such a wide variety of landscapes and points of interest, it is recommended that visitors bring a variety of lenses with them on their trip there.
These lenses may vary from wide-angle to ultra-telephoto and everything in between. Landscape photography, animal photography, where you may set up near a waterhole (such as in Etosha's camps), and photographing the night sky all need the use of a tripod. Because of the country's high level of airborne particulate matter, visitors visiting Namibia are advised to keep their electronic equipment enclosed in sealed boxes when riding in vehicles and to thoroughly wipe the dust from their lenses.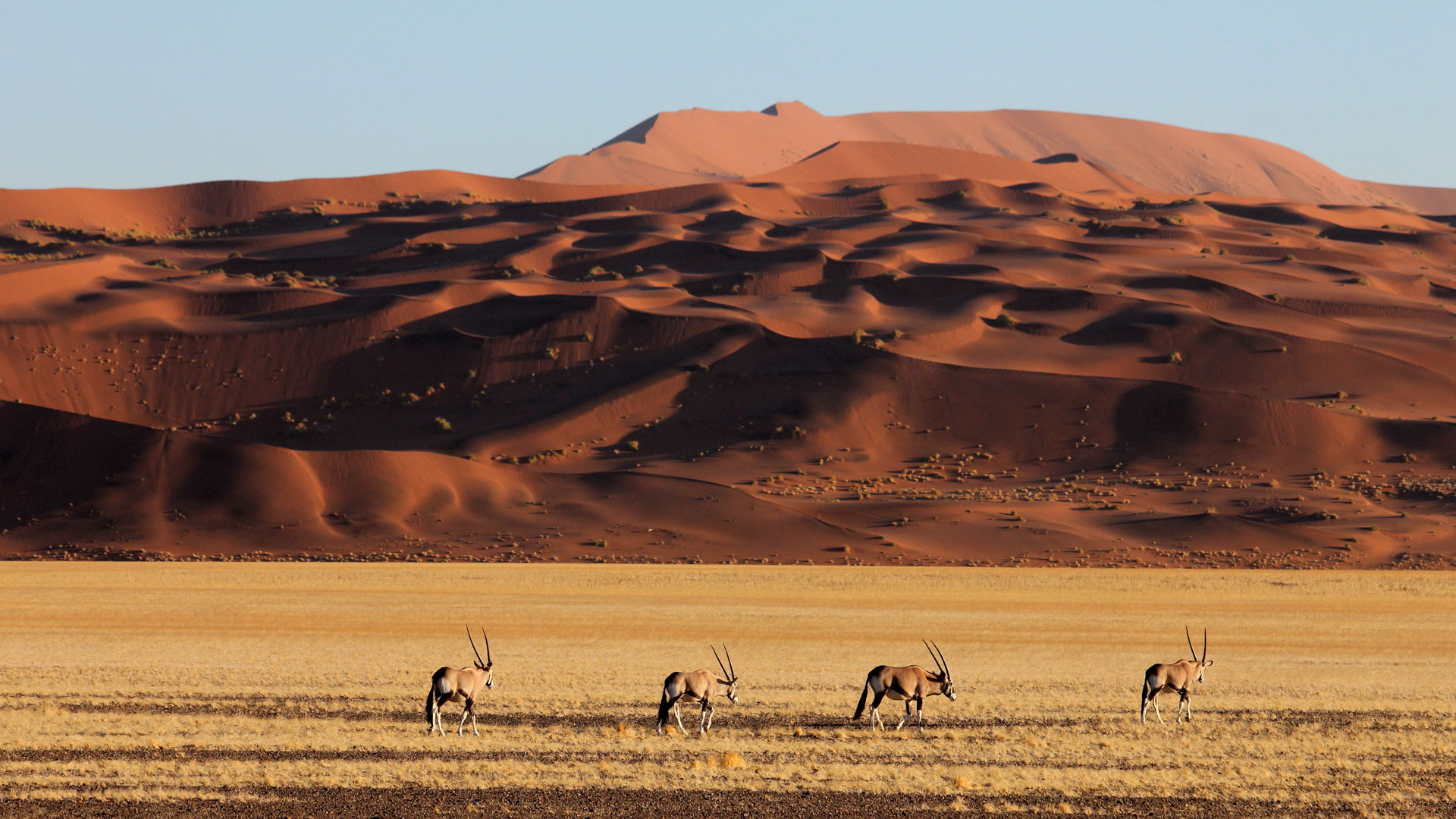 Seasonal photographic memories
The several seasons of Namibia each provide their own unique opportunities for photography. During the months of November through March, when it is the rainy season, the vegetation in some locations (such as Etosha) will be lush and green. These are also the greatest months for taking photographs of birds. After the rains have ceased falling in April and May, the sky is often clean and free of dust throughout these months. However, the months of June through October are the greatest time to visit Etosha because of the increased likelihood of seeing animals near the park's waterholes.
Why a photographic destination?
In a very short amount of time, Namibia is popular as one of the world's best locations for landscape and animal photography. The variety of Namibia's wildlife is really astounding. The land of Namibia is characterized by sweeping panoramas of desert that go on for kilometers and include an astounding variety of colors and textures.
Photographers interested in wildlife will find a lot to capture there. It is since the protected area criteria apply to more than 19% of the total terrain. In point of fact, some of the winning images that were presented at the most prestigious top wildlife photography contests across the globe were shot inside the borders of Namibia.
Namibia is the only nation in the world to have its whole coastline protected by national parks. Consequently, it is the only country in the world to have this distinction. In addition to its arid and semi-arid landscapes, the nation is home to savannahs, woods, perennial rivers, floodplains, and the Kalahari sand veld. Also, it is home to a various array of mammalian, reptilian, avian, and plant species.
In addition to the various options for photographing the country's animals and landscapes. Namibia is home to a large number of historical structures and buildings. It is that have been preserved in their original state. An old diamond mining town that has been abandoned. And is slowly being eaten by the shifting sands of the dunes makes for a surreal photography experience.
Rock art and carvings created by Bushmen dating back more than 2,500 years may be seen. It is on the majority of the granite and sandstone structures found across the Namib Desert. These strange landscapes are also home to fauna that is able to survive in arid environments. Such as elephants, lions, and rhinos.
Landmarks of photographic interest in Namibia
Etosha National Park
Etosha National Park, Namibia's most well-known wildlife attraction, contain open Savannah, Mopane Woodland, and an antique canal. It is also one of the largest national parks in Namibia. This salt pan, which accounts for approximately a third of the park's total area, will become a spectacular habitat for a wide variety of animal species when it annually fills up as a result of enough precipitation.
Damaraland
The Skeleton Coast National Park is not only one of the few residual unspoiled wilderness areas in Africa. But it is also among the most hostile locations on the planet for all forms of life.
Around 80 million years ago, after being shaped by massive forces hundreds of millions of years ago. The terrain finally stabilized. Since that time, the Skeleton Coast has provided its surviving residents. It is with a lifeline in the form of a coastal fog system. This system is the primary source of water supply for the Namib Desert's coastal region.
Don't forget to bring your wide-angle lens so you may take advantage of the fantastic landscape photography possibilities presented by vistas with curved geology and vibrant color contrasts.
Sossusvlei
The rainy season in Namibia is, without a doubt, the ideal time to go there. It is if you are like landscape photography. The background for stunningly colorful sunsets and sunrises is sometimes include dramatic, isolated thunderstorms. It is that usually come with huge cumulonimbus clouds.
The ethereal light causes the granite structures to shine nearly. Which results in photographs of a landscape that are truly breathtaking. The massive granite inselberg known as the Spitzkoppe. With its weathered granite arches and perfectly shaped boulders, should not be missed on any trip to the central Namib region of Namibia.
In addition, Namibia has some of the world's most beautiful night skies. In fact, parts of the Namib desert have been designated as black sky reserves. It is owing to the absence of man-made light pollution. The beach village of Swakopmund has an air of genuine old-world enchantment. And seems to have been plucked straight from Bavaria in the 18th century. At sunset, the Swakopmund Jetty is a popular location. It is for both local and tourist photographers to stop.