The nation of Namibia, which can be found in southern Africa, is well-known for the expansiveness of its landscapes, the variety of its fauna, and the singularity of its culture. Namibia is home to a multitude of natural beauties and interesting experiences, despite the fact that it has one of the world's lowest population densities and is among the least populous nations overall.
The answer to the query of whether or not it is worthwhile to go to Namibia is a resounding "yes" in every case. Everyone who enjoys adventuring and discovering new places should make it a point to go to Namibia because of the country's breathtaking landscapes, pristine wilderness, and friendly people.
Best places to visit in Namibia:
In this post, we'll take a look at the top 10 greatest places to visit in Namibia if you want to get the most out of your safari vacation.
1. Etosha National Park
With good reason, Etosha National Park is considered to be one of the most popular tourist attractions in all of Namibia. Elephants, lions, giraffes, and zebras are just some of the animals that call this park their home. There are also zebras. Visitors get the opportunity to watch the animals in their natural environment by going on game drives in the park. Since it is also home to a number of resorts and campgrounds, the park is a perfect place for those who are eager to experience the African wilderness without sacrificing their luxury.

2. Cape Cross Seal Reserve
The Cape Cross Seal Reserve is an area that should not be missed by anybody who has even a passing interest in marine life. The reserve is home to one of the biggest fur seal colonies in the world, with approximately one hundred thousand Cape fur seals calling it their permanent home. Visitors have the option of staying a safe distance away from the seals and watching them from a distance or going on a guided tour to learn more about these fascinating animals. A museum that explains the history of the region, as well as its environment, may be found inside the reserve as well.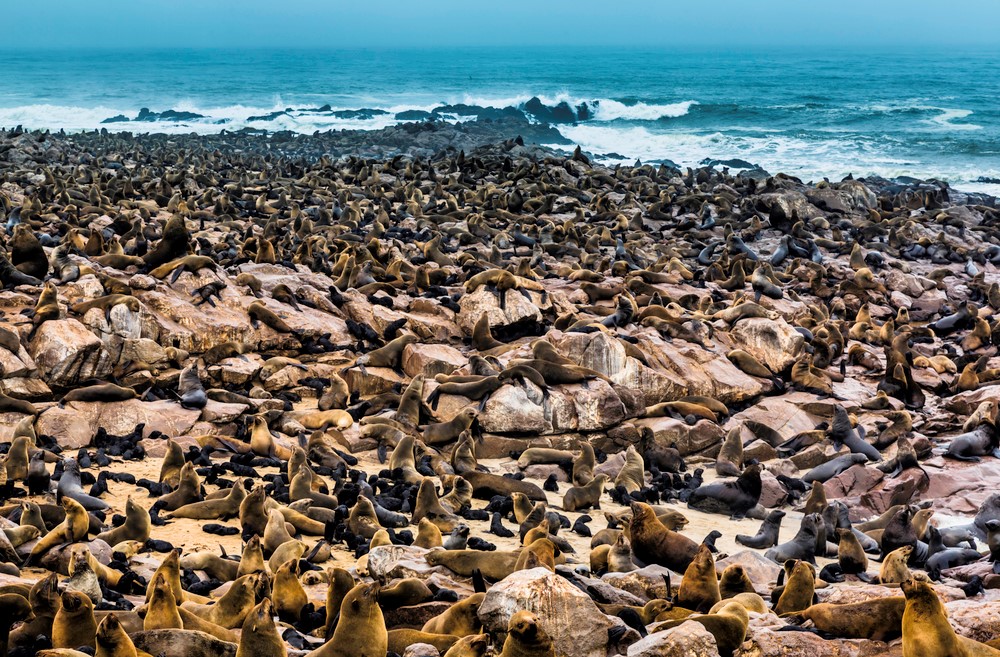 3. Damaraland in Namibia
The untamed area of Damaraland can be found in the northwest corner of Namibia. It is famous for the breathtaking landscapes and abundant species that can be found there. The region is home to a wide variety of species, some of which include lions, elephants, and rhinoceroses. Visitors have the option of going on guided tours to learn about the history and culture of the area, or they may go on game drives to see the wildlife in the area. Since it is also the location of a variety of resorts and campgrounds, Damaraland is an excellent destination for those who are interested in experiencing the African wilderness without sacrificing their luxury.

4. Sossusvlei Namib Desert Tours
Sossusvlei is a salt and clay pan that may be found in the southern region of the Namib Desert. It is flanked on all sides by red sand dunes. There's a good reason why it's one of the most photographed locations in Namibia: the desert landscape is breathtaking. The sand dunes may reach a height of up to 300 meters, making them some of the tallest in the world. Visitors may take advantage of guided excursions to get a better understanding of the desert's one-of-a-kind ecosystem while also getting a chance to see more of the surroundi regions. Since it is also home to a variety of resorts and campgrounds, Sossusvlei is a perfect location for those who are eager to experience the African environment without sacrificing their luxury.

5. Namibia Honeymoon Luxury Safari Tours
Namibia is an excellent choice as a honeymoon location for couples who are searching for an experience that combines romance and excitement. There are several tour companies that provide luxurious safaris that provide couples the opportunity to explore the finest of Namibia's natural beauties while resting in comfortable hotels and campsites. Game drives, guided tours, and a variety of other activities, all with the goal of highlighting the extraordinary natural beauty of the nation, are generally included in these excursions.

6. Namibia Budget Camping Safari Tours
Don't worry about breaking the bank if you want to go on safari in Namibia; there are many reasonably priced choices available. Camping safaris on a budget provide tourists with a more inexpensive opportunity to see the African outdoors. These excursions often feature overnight stays in a campsite and meals consisting of the bare necessities, but they nevertheless provide enough time to see the country's natural attractions and animals.

7. Namibia Self-drive Safari Tours
Self-drive safaris are plenty in Namibia for those who would rather go at their own pace and discover the country at their own pace. These trips provide guests with the opportunity to hire a vehicle and travel across the nation at their own speed, stopping whenever they choose to take in the local landscape and animals. Self-drive tours provide travelers with a great deal of freedom and the opportunity to design their own itineraries depending on the priorities and preferences they have for their vacation.
8. Namibia Guided Lodging Safari Tours
The natural marvels of Namibia may be seen in a manner that is both relaxing and uncomplicated by participating in a guided lodge safari trip. These trips often include lodging in lodges or at campsites, as well as meals and guided excursions of the national parks and other attractions around the country. Visitors are able to get an understanding of the region's history and culture during the course of guided excursions, in addition to gaining the opportunity to see the varied animals of the nation.
9. Skeleton Coast National Park
This park is one of the places in Namibia that is both one-of-a-kind and very secluded. The park was given its name because of the many shipwrecks that can be discovered along its shoreline, in addition to the human and animal bones that are scattered across the region. Skeleton Coast National Park is home to a wide variety of animals, despite having a reputation for being haunted. Some of the animals that live there include elephants, lions, and seals. Visitors may take part in guided hikes that take them through the park's rocky terrain and teach them about the area's distinc ecosystem.

10. Fish River Canyon
It is one of the biggest canyons in the world and should go on the bucket list of anybody who has even a passing interest in the natural marvels of the earth. The length of the canyon is about 160 kilometers, its width may reach up to 27 kilometers, and its depth can reach up to 550 meters. Tourists have the option of going on guided excursions into the canyon to learn about its history and geology, or they may trek the famed Fish River Canyon Trail, which can be completed in four to five days.


11. Twyfelfontein Rock Art
Twyfelfontein is recognized by UNESCO as a World Heritage Site due to the presence of one of the continent's most extensive collections of rock art. Around 2,500 rock carvings and paintings, some of which date back thousands of years may be seen at this location. The site is open for exploration, and visitors may join guided Tours to learn about the historical and cultural importance of rock art.

12. Spitzkoppe
The Namib Desert is where the Spitzkoppe granite peaks may be found. These are a collection of peaks that come up out of the desert. Hikers and rock climbers flock to this region because it has a number of paths and climbs that, when reached, provide breathtaking vistas of the desert environment that is located all around them.

14. Swakopmund
Swakopmund is a picturesque beach town that is home to a fascinating combination of African culture and architecture that was influenced by German colonial rule. The town's streets are lined with palm trees, and tourists may enjoy local seafood and a wide variety of outdoor sports, such as sandboarding, quad riding, and skydiving while taking a leisurely walk around the town.

15. Himba Village
The Himba are a pastoral cultural tribe that dwells in the remote northwestern part of Namibia. They practice a kind of semi-nomadic lifestyle. Visitors may participate in guided excursions to see Himba communities and get insight into the indigenous people's traditions, beliefs, and distinctive modes of clothing, among other aspects of their traditional way of life.

16. Waterberg Plateau Park
The Waterberg Plateau is an impressive sandstone mountain that emerges from the lowlands that are located all around it. The region is inhabited by a wide variety of animal life, some of which are very rare or threatened with extinction, such as leopards, rhinoceroses, and buffaloes. In order for guests to discover the park and get acquainted with its native flora and fauna, the park offers both guided hikes and game drives.

17. Kolmanskop Ghost Town
Kolmanskop is now a deserted town, although, in its heyday, it was a bustling center for the diamond mining industry. Now, the town is slowly being reclaimed by the desert that surrounds it, and tourists may explore the deserted streets and structures that remain after the town was abandoned.

Conclusion
In conclusion, Namibia is a country that should not be overlooked as a potential vacation destination, particularly for those who are interested in having an extraordinary and exciting safari experience. Namibia is a country that has something to offer everyone because of its varied ecosystems, breathtaking scenery, and extensive cultural heritage. There are a variety of tours and safaris available in Namibia that can be customized to meet the requirements and tastes of every tourist. These may include anything from opulent resorts to inexpensive camping choices, as well as guided excursions or self-drive itineraries. Put your belongings in order, for you are about to go on a trip of a lifetime through one of the most beautiful and intriguing nations in all of Africa.