17 Days Kenya's Wildlife Photography & Birdwatching Safari ( Lodging)
100% Secure
Job is done or money back
You pay only the listed price without any hidden costs.
We keep your money until you are happy with the delivered work.
The job will be done or your money will be returned.
Easy & Safe Payments.
Guaranteed 100% Secure.
You pay only the listed price without any hidden costs.
Do you have any questions about the Tour?
Lets Give you a Call or Email you.
Overview
Type Of Tour: Lodging Tours
Duration Of Tour: 17days / 16 Nights
Tour Details:
This 17 Days Kenya Wildlife Photography & Birdwatching Safari Will Take You To Thika, Mt. Kenya, Samburu, Lake Nakuru, Lake Naivasha, Lake Baringo, Lake Victoria And Masai Mara. From The World's Biggest Bird, The Ostrich, To Spectacular Flamingos That Congregate In Their Millions At The Various Lakes Of The Great Rift Valley And Camouflage Them In Pink. Guest Will Have The Opportunity To Explore Wildlife And Birds Africa Can Offer.
Tour Highlights:
The Ever-Changing Landscapes Form A Dramatic Backdrop To The Animal Life In Its Mosaic Of Parks And Reserves.
Kenya's Well-Known Highlights Include The Wildebeest Migration On The Open Plains Of The Masai Mara National Reserve, And Amboseli National Park's Elephants Walking In Front Of Mt Kilimanjaro, Africa's Highest Mountain.
Then You Might Prefer A Safari With A Difference. Perhaps Cycling With Wildlife In Hell's Gate National Park Or Watching Animals In The Forest From A Tree-Hotel Balcony In The Aberdares.
Wherever You Go, Take A Moment To Talk With The People. Their Stories Will Make Your Trip Even More Memorable.
Trip Facts:
| | | | |
| --- | --- | --- | --- |
| Destinations | Accommodation | Nights | Meals |
| Mount Kenya | Serena Mountain Lodge | 1 Night | Dbb |
| Samburu National Reserve | Ashnil Samburu Camp | 2 Nights | Dbb |
| Aberdare | Naro Moru River Lodge | 1 Night | Dbb |
| Nakuru | Sarova Lion Hill Game Lodge | 1 Nights | Dbb |
| Lake Baringo National Park | Baringo Soi Safari Lodge | 2 Nights | Dbb |
| Kakamega Forest National Reserve | Rondo Retreat Centre | 2 Nights | Dbb |
| Kisumu | Imperial Hotel Kisumu | 1 Night | Dbb |
| Masai Mara | Masai Mara Sopa Lodge | 2 Nights | Dbb |
| Lake Naivasha | Lake Naivasha Sopa Resort | 1 Night | Dbb |
| Nairobi | Nairobi Safari Club | 2 Nights | Dbb |
---
Itinerary
Day 1: Nairobi To Mt Kenya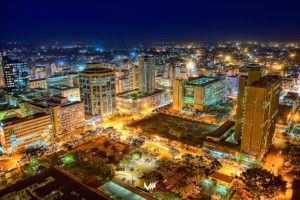 Morning Link Up With One Of Our Members Of Staff In Nairobi For A Briefing Of Your Upcoming Holiday Before The Pickup For The Drive To The Mount Kenya National Park And Onto To The Serena Mountain Lodge Inside The Park.  Lunch At The Lodge. Enjoy Game Viewing From The Privacy Of Your Room Balcony As The Wildlife Visit The Floodlit Natural Salt Lick For A Fill. Dinner And Overnight At Serena Mountain Lodge.
Overnight: Serena Mountain Lodge
Distance: 138 Km
Time: 6h 28min
---
Day 2: Mt.Kenya - Samburu National Park
Breakfast. Morning Drive Further North, Past The Equator And Onto The Samburu Game Reserve. Arrival For Lunch At Samburu Ashnil Permanent Tented Camp. Afternoon Game Drive At The Reserve. Return To The Ashnil Samburu Camp For Dinner And Overnight. Full Board
Overnight: Ashnil Samburu Camp
Distance: 89 Km
 Time: 1h 14 Min
---
Day 3: Head Out On A Game Drive At Samburu Reserve
After Breakfast, You'll Spend Most Of The Day In Samburu National Reserve On The Banks Of The Ewaso Ng'iro River After Leaving Camp To Have As Many Chances As Possible To Take Wonderful Photos While On Safari. In The Middle Of This Reserve, The Ewaso Ng'iro Flows Through Doum Palm Groves And Thick Riverine Forests. It Provides Life-Giving Water To The Game In This Arid Region–Without Which, The Animals Could Not Survive. On The Other Side Of The River Is Buffalo Springs National Reserve As Well. Overnight At Samburu Ashnil Permanent Tented Camp. Full Board
Overnight: Ashnil Samburu Camp
---
Day 4: Samburu Reserve- Aberdares National Park
Our Destination Today Will Be At Aberdares National Park. Depart After Breakfast And Drive To The Lower Slopes Of The Aberdares Arriving At Aberdares Country Club In Time For Lunch. In The Afternoon We Set Off To Ark Lodge, Perched In The Forest, On The Mountain Slopes Of The Aberdares Mountain. The Lodge Has Four Viewing Decks With Balconies And Lounges That Provide Superb Game Viewing From The Comfort Of Your Tent. Dinner And Overnight At The Naro Moru River Lodge Lodge.
Overnight: Naro Moru River Lodge
Distance: 223.5 Km
Time: 5 Hr 14 Min
---
Day 5: Aberdares National Park – Lake Nakuru
After Breakfast, Proceed To Lake Nakuru Arriving In Time For Lunch. An Afternoon Game Drive Takes Us Round The Lake; Home Of The Famous Pink Flamingo. Lake Nakuru Is Truly An Ornithologist's Paradise. Dinner And Overnight At The Lake Nakuru Lodge Or Sarova Lion Hill.
Overnight:   Sarova Lion Hill Game Lodge
Distance: 141.6 Km
Time: 3 Hr 53 Min
---
Day 6-7: Lake Nakuru - Lake Baringo
Our Next Destination Is A Fresh-Water Lake In The North Called Lake Baringo.
Here The Combination Of A Large Lake In Semi-Desert Country And The Nearby Baringo Cliffs Provide The Perfect Habitat For A Great Diversity Of BirdLife. Specialties In This Area Are Dark Chanting-Goshawk, Heuglin's Courser, Northern White-faced Owl, Greyish Eagle-Owl, Slender-Tailed Nightjar, Jackson's And Hemprich's Hornbills, Black-Throated Barbet, Red-Fronted Warbler, Brown-Tailed Chat, Somali Tit, Beautiful Sunbird, Bristle-Crowned Starling, Golden-Backed And Little Weavers, Northern Masked-Weaver And Northern Red Bishop. Other Possibilities In The Area Include Lanner Falcon, Verreaux's Eagle, Blue-Naped Mousebird, Madagascar Bee-Eater, Red-Fronted Barbet, Northern Crombec, Pygmy Batis, Cardinal Quelea, And Eastern Paradise-Whydah.
Overnight:   Baringo Soi Safari Lodge
Distance: 133.8 Km
Time: 2 Hr 39 Min
---
Day 8-9: Lake Baringo – Kakamega Forest
After Some Final Birding Around The Lake Baringo Area We Will Depart For The Kakamega Rainforest In The Western Highlands, En Route Stopping For Special Interest Birds In The Kerio Valley. These May Include Black-headed Lapwing, Meyer's Parrot, White-Crested Turaco, African Black And Horus Swifts, African Pygmy-Kingfisher, Double-Toothed Barbet, Long-Billed Pipit, Silverbird, Brown Babbler, White-Crested Helmet-Shrike, Black-Headed Gonolek, Chestnut-crowned Sparrow-Weaver And Reichard's Seedeater. Kakamega Rainforest Is The Eastern Most Extension Of The Congo Rainforest And Is, Without Doubt, The Best Birding Destination In The Entire Country.
Many Of The Species Here Are Found Nowhere Else In Kenya And The List Of Possibilities Is Seemingly Endless. Such Avian Gems As White-Spotted Flufftail, Great Blue Turaco, Bar-Tailed Trogon, Blue-Headed Bee-Eater, Black-And-White-Casqued Hornbill, Grey-Throated, Yellow-Spotted, And Yellow-Billed Barbets, Golden-Crowned And Brown-Eared Woodpeckers, African Broadbill, 13 Species Of Greenbul, Brown-Chested Alethe, Banded And White-chinned Prinias, Black-Faced Rufous-Warbler, Equatorial Akalat, Snowy-Crowned Robin-Chat, African Shrike-Flycatcher, Chestnut, Jameson's, Brown-Throated And Yellow-Bellied Wattle-Eyes, African Blue Flycatcher, Dusky Tit, Green-Throated, Green And Northern Double-Collared Sunbirds, Western Black-headed Oriole, Mackinnon's Fiscal, Pink-footed Puffback, Grey-Green And Luehder's Bush-Shrikes, Stuhlmann's Starling, Black-Billed And Vieillot's Weavers, Red-Headed Malimbe, Red-Headed Bluebill, And Black-And-White Mannikin. Rainforest Mammals To Be Expected Are Eastern Black-And-White Columbus, Gentle And Red-Tailed Monkeys, And The Very Active Red-Legged Sun-Squirrel.
Overnight: 2 Night Stay At Rondo Retreat Centre.
Distance: 232.0 Km
Time: 4 Hr 34 Min
---
Day 10: Kakamega Forest National Reserve – Kisumu
Early Morning We Will Depart For Kisumu On The Northeastern Shore Of Lake Victoria Where We Will Search For The Specialities Of The Area, Some Of Which Are Found Only In The Papyrus Swamps Surrounding This Great Lake. Species We Are Likely To See Are African Openbill, Abdim's Stork, Water Thick-Knee, Long-Toed Lapwing, Eastern Grey Plantain-Eater, Blue-Headed Coucal, Black-Billed Barbet, Yellow-Fronted Tinkerbird, Greater Swamp-Warbler, Swamp Flycatcher, Birds To Be Red-Chested And Copper Sunbirds, Papyrus Gonolek, Slender-Billed, Black-Headed And Northern Brown-throated Weavers, Black-Winged Bishop, Fan-tailed Widowbird And Papyrus Canary.
Overnight: Imperial Hotel Kisumu
Distance: 54.8 Km
Time: 1 Hr 23 Min 
---
Day 11: Kisumu – Masai Mara
At 0700 Hours, Morning Pick Up From Your Guest House In Kisumu To Masai Mara Game Reserve.  You Will Leave Kisumu City With Picnic Lunch Boxes This Morning.
The Drive From Kisumu To Masai Mara Takes Between 4 Hours To 6 Hours Depending On The Route And The Location Of The Lodge.  Picnic Lunch On The Way. You Expect To Arrive In Time An Afternoon Game Drive In The Mara On Your Way To The Lodge.
Overnight: Masai Mara Sopa Lodge
Distance: 219.9 Km
Time: 4 Hr 44 Min
Depart In The Morning And Drive Through Fields Of Wheat With Great Views Of The Farms And Rolling Plains To The Masai Mara National Reserve. The Reserve Is A Vast And Scenic Swath Of Gently Rolling African Savannah Located In Southwest Kenya And Bordering The Serengeti In Tanzania. It's A Famous And Unique Destination That Is Home To Amazing, Diverse Wildlife.
The Premier Safari Location In East Africa, The Masai Mara National Reserve Has Large Numbers Of Lions, Cheetahs, Elephants, Buffalos, Wildebeests, And Many Other Types Of Animals At Home In Their Natural Habitat. The Reserve Has Even Been Voted One Of The New "Seven Wonders Of The World." Filled With Flat-Topped Acacia Trees, Shrubs, And Bushes, You Will Find Plenty To Photograph Here.
After You Arrive In The Afternoon, You'll Take A Walk With The Local Experienced Masai Guide. Then Check Into Your Hotel And Settle In For A Restful Night.
Overnight: Masai Mara Sopa Lodge
---
Day 13: Masai Mara – Lake Naivasha
Leaving Early We Will Bird The Acacia Woodland In The Siana Springs Area Of The Southern Mara. This Area Is Home To Several Species Seen Nowhere Else In The Country. Some Of The Specialties May Include Bare-Faced Go-Away-Bird, Magpie Shrike, Miombo Camaroptera, African Penduline-Tit, Croaking Cisticola, Red-Throated Tit, Red-Headed Weaver, Black-Throated Canary And Golden-Breasted Bunting. Mid-Morning We Will Depart For Lake Naivasha Traveling Through The Great Rift Valley. While En Route We May Come Across Egyptian Vulture, Greater Kestrel, Kori Bustard, Grey-Rumped Swallow, Schalow's And Capped Wheatears And Red-Billed Quelea. An Afternoon Arrival Will Allow Us To Bird The Tall Acacia Woodland On The Beautiful Hotel Grounds. Expected Here Are Gabar Goshawk, Dideric And Black Cuckoos, Barn Owl, Verreaux's Eagle-Owl, White-Fronted Bee-Eater, Lesser And Wahlberg's Honeyguide, Black-Lored Babbler, Amethyst Sunbird, Grey-Headed Bush-Shrike And Spectacled Weaver.
Two Night Stay At The Lake Naivasha Sopa Or Resort Lodge
Overnight: Lake Naivasha Sopa Lodge
Distance: 219.9 Km
Time: 4 Hr 44 Min
---
Day 15: Lake Naivasha – Nairobi
The Morning Will Begin With An Exciting Boat Trip On Lake Naivasha. Specialty Birds We Will Be Looking For While Out On The Lake Include Pink-Backed Pelican, Goliath And Purple Herons, Southern Pochard, African Marsh-Harrier, Purple Swamphen, Lesser Moorhen, Three-Banded Plover And Lesser Swamp-Warbler. Mid-Morning We Will Depart For Nairobi, Making Several Birding Stops En Route. Our First Destination Is The Kinnangop Plateau Where We Hope To Find The Endemic Sharpe's Pipit. This Species Has Been On The Decline In The Last Few Years, Mainly Due To Habitat Loss, But With Some Luck We'll Be Able To Locate This Very Special Bird.
Overnight: Nairobi Safari Club
Distance: 101.3 Km
Time: 2 Hr 12 Min
Next Will Be The Gatamayu Forest On The Kikuyu Escarpment, An Area Of Middle-Elevation Forest, Which Is Home To Several Species Not Yet Seen On The Tour. The Main Target Birds In This Area Are Cameroon Scrub-Warbler, White-Tailed Crested-Flycatcher, Placid Greenbul, Black-fronted Bush-Shrike, And The Nomadic Abbott's Starling. Our Final Birding Stop Is At The Limuru Pond Located Just Off The Main Highway. A Large Ridge Overlooks The Pond And From This Vantage Point, We Should Be Able To Locate Madagascar Pond-Heron, Intermediate Egret, White-Backed And Maccoa Ducks, White-Faced And Fulvous Whistling-Ducks, Black Crake And Whiskered Tern.
Overnight: Nairobi Safari Club
We Will Spend Our Last Day In Kenya Birding Nairobi National Park, Which Lies Within The Shadows Of The Large Capital City. With Highland Forest, Acacia Woodland, Rocky Escarpments, Open Grassland, Large Ponds, And Small Streams, This Park Is Home To A Wide Variety Of Birds And Mammals. Some Of The Key Species We Will Search For Here Are Shelley's Francolin, Hartlaub's Bustard, Spotted Thick-Knee, Yellow-Throated Sandgrouse, Singing Cisticola, Banded And Brown Warblers, African Yellow Warbler, Northern Pied Babbler, White-Breasted White-Eye, Long-Tailed Fiscal, And White-Winged Widowbird. Nairobi National Park Is Without A Doubt The Best Place In Kenya To See The Endangered Black Rhino, And We Have A Very Good Chance Of Locating This Very Impressive Species Together With Many Of The Other Mammals We Have Seen Before.
Return To Nairobi By Late Afternoon. Transfer To The Airport For A Late Evening Flight
---
Included/Excluded
Qualified professional driver guide
Vehicle / fuel
Park entrance fees as per itinerary
Passenger liability 15%
VAT 2% tourism levy
Airport transfers
Accommodation
Breakfast and Dinner for the Client
Expenses of personal nature
Entrance fees not mentioned in the itinerary
Meals not mentioned
Drinks at lodges and on road
Optional excursions and activities
Tips for tour guides
International flights and airport taxes
Items not mentioned in the itinerary
How To Book And How To Pay:
To reserve this tour, a payment of 30% of the total price must be made at the time of reservation. The balance of 70% can be made 30 days before the departure of your tour. Your deposit can either be made through a Bank Transfer, with the addition of a 45 US Dollar fee or by Credit Card which incurs an additional bank charge of 3.5%.
Other jobs by admin