12-Day Gorillas, Chimpanzee & Wildlife Safari (Camping & Lodging)
100% Secure
Job is done or money back
You pay only the listed price without any hidden costs.
We keep your money until you are happy with the delivered work.
The job will be done or your money will be returned.
Easy & Safe Payments.
Guaranteed 100% Secure.
You pay only the listed price without any hidden costs.
Do you have any questions about the Tour?
Lets Give you a Call or Email you.
Overview
Type of Tour: Lodging Tours
Duration of Tour: 12 Days / 11 Nights
Tour Details:
Take the 12-Day Pearl of Africa –Uganda; Trekking Gorillas, Chimpanzee and Wildlife Safari – a Big 5 Wildlife plus Primates Safari. Search for the elusive Shoebill Stork, visit Africa's Red tapped Rhinos, Murchison Falls Park – Uganda's Best All-Around Wildlife Park, Kibale Forest Park for Chimps, Queen Elizabeth Park with its dominant Kazinga Channel, Game & Tree Climbing Lions, Bwindi Gorilla Trek, the stunning stillness of Lake Bunyonyi and Lake Mburo Park – All the one Uganda Safari.
Tour Highlights:
Mountain gorilla trekking in Bwindi Impenetrable Forest Park
chimpanzee tracking walk in the forests of Kibale National Park
Boat cruise on the Kazinga Channel in Queen Elizabeth Park
Exploring the local communities near Bwindi National Park
Visiting Igongo Cultural Village to meet Uganda's people
Trip Facts:
| | | | |
| --- | --- | --- | --- |
| Destinations | Accommodation | Nights | Meals |
| Kampala | Forest Cottages Kampala | 1 Night | DBB |
| Murchison Falls National Park | Fort Murchison Lodge | 1 Night | DBB |
|  Murchison Falls National Park | Red Chilli Rest Camp | 1 Night | DBB |
| Kibale Forest National Park | Isunga Lodge | 2 Nights | DBB |
| Southern Queen Elizabeth National Park | The Bush Lodge (Queen Elizabeth National Park) | 2 Nights | DBB |
| Bwindi Impenetrable Forest | Bakiga Lodge | 2 Nights | DBB |
| Kabale Lake Bunyonyi | Lake Bunyonyi Eco Resort | 1 Night | DBB |
|  Lake Mburo National Park | Eagle`s Nest5 | 1 Night | DBB |
---
Itinerary
Day 1: Kampala Airport to Kampala Accommodation (50.7 km)
You will be picked up at their accommodation or Airport and drive to From Kampala and drive to Mabamba swamp to search for the most sought-after bird in Africa, the ancient-looking Shoebill Stork along with many other birds in the Swamp. You then access the swamp in a local fishing boat / Canoe with a local guide.
Pack a nice lunch, take some bottled water take along a good pair of Binoculars, hat, sun protection, insect repellent, light rain jacket, long-sleeved shirt, and long trousers – all in your backpack. Mabamba Swamp is also habitat for countless water – birds away from the Shoebill Stork such as Swamp Flycatcher, African purple swamp hen, African water rail, Pallid Harrier, Papyrus Gonolek, White-winged Warbler and the Blue Swallow Common moorhen, lesser jacana, African jacana et
Overnight: Forest Cottages Kampala
Distance: 51.1 km
Time: 51 min
---
Day 2: Kampala to Murchison Falls National Park
You will have early breakfast and drive to Murchison Falls National Park from Kampala or Entebbe at 7.30am and head northward in the direction of Murchison Falls National Park as we begin. Our first stop is at Ziwa Rhino Sanctuary. Here we track Rhinos on foot – a unique and one of a kind experience with competent guides who will give you background and insight about the Rhinos and the restoration of Rhinos in Uganda then you will continue their journey to Murchison Falls National Park and will have lunch at the Red Chili Camp then crossing the Nile by Ferry. for our first wildlife game drive on which we look forward to spotting, Lions, Giraffes, Elephants, Leopards, Buffaloes, Birds, various antelopes plus more. Then we check into either better-budget – moderately priced lodge depending on your budget – Full Board.
Overnight: Fort Murchison Lodge
Distance: 309.5 km
Time: 5h 40m
---
Day 3: Murchison Falls National Park
You will wake up early at 6.00am and go on a Morning game drive for a chance to view the magnificent daybreak from across the open savannah, birds and dotted woodland as well as reverine vegetation along the Nile. You will see animals like lions, buffalo, elephant, giraffes, antelope and a lot more. You will be back around 10-11am, to have breakfast. You will relax around the lodge until lunch hour and go for the boat launch to the bottom of the powerful Murchison Falls. This 3-hour boat cruise climaxes at the edge of the rift valley escarpment at which point you will get off the boat and trek to the top of the falls (wear sports shoes while on the boat for ease of trekking to the top). Having worked up a sweat, once at the top, get bathed in the misty spray that the Nile creates as it forces itself into the 7-meter cleft to create the famous Murchison Falls. You will go back to the lodge for dinner.
Overnight: Red Chilli Rest Camp
---
Day 4: Transfer To Kibale Forest National Park
You will have a nice breakfast early in the morning and drive to Kibale Forest, along the way you will have Lunch along the road. Kibale Forest National Park is in southern Uganda, Kibale Forest National Park is said to be home to the highest density of primates in Africa. Although the highlight of the park is the habituated chimpanzees, the treetops are alive with all manner of monkey including red-tailed monkey, L'Hoest's monkey, grey-cheeked mangabey, red colobus and black and white colobus monkeys are all spotted here. We check in and have dinner and rest for the night after a long day of travel. Recommended for the experience (Chimps' Nest Tree House in the jungle).
Overnight:  Isunga Lodge
Distance: 28.6 km
Time: 38 min
---
Day 5: Kibale Forest National Park
You will wake up early at 6.00am you will drive to Kanyankyu River camp for a pre – tracking briefing then go for the most popular activity in this park – Chimpanzee Tracking. Chimps are man's closet cousins though they are one of the most threatened primate's species. There are several other primate species you will encounter. Best to take a light daypack, one liter of water, your camera equipment and a good set of binoculars, wear some jeans or long trousers, long-sleeved shirt, light hiking boots, a hat. Tracking is normally about 3½ hours in length and a most memorable time for you. You do have the choice here to either track chimpanzees or to participate in all day chimpanzee habituation experience where you are with researchers and others who are in the process of habituating the chimpanzees. Both chimpanzee habituation and chimpanzee tracking must be well planned ahead of time. Return for lunch at your lodge.
Overnight:  Isunga Lodge
---
Day 6: Kibale To Queen Elizabeth National Park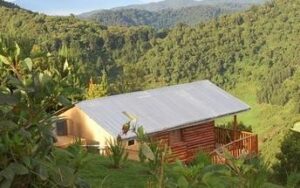 You will grab breakfast and depart to Queen Elizabeth Park where we check into the lodge. The Bush lodge location is overlooking the famous Kazinga Channel. The natural channel connecting Lake Edward and Lake George. Lunch at the lodge, rest and late afternoon game drive across the candelabra euphoria tree studded savannah. Nothing to be hurried, if you see something the driver will stop at your beckon. Queen Elizabeth National Park is bordered by the snow-capped 16,000ft Rwenzori Mountains in the north – the "Mountains of the moon" The 767-square-mile conservation area is bordered on the North East by Lake George and on the South West by Lake Edward; its western border connects to the DRC Parc Du Virunga. Look out for teeming herds of impala-like Uganda Kob, as well as topi, elephant and lion, giant forest hog, Cape buffalo. There are also several soda lakes filling ancient volcanic calderas where flamingos reside seasonally. Return to the lodge for dinner and night rest.
Overnight: The Bush Lodge (Queen Elizabeth National Park)
Distance: 65.8 km
Time: 1 hr 35 min
---
Day 7: Queen Elizabeth National Park
You will wake up early at 6.00am after your morning breakfast, you will begin your day with a game drive in the morning where you are likely to see early risers, predators, bush bucks, hyenas, elephants, bush pigs, Lions, buffaloes, climbing lions and jackals. After the drive, you will return to the Lodge/Hotel for lunch and relaxation. In the afternoon, you will go for 3 hrs thrilling launch trip along the Kazinga channel where you are likely to see hundreds of hippos, buffalos, while elephants linger on the shoreline and spot over 60 bird species during the trip. You will return to the Lodge for relaxation, dinner and overnight stay.
Overnight: The Bush Lodge (Queen Elizabeth National Park)
---
Day 8: Southern Queen Elizabeth National Park to Bwindi National Park (149.0 km)
Accommodation: Bakiga Lodge, Bwindi Impenetrable Forest / Similar
Guest will have breakfast drive to the unvisited portion of Queen Elizabeth Park called Ishasha – it is a 2½ hr drive. We take a game drive and our focus is the tree climbing lions of Ishasha. This is best I East Africa to watch the lions sleep the day way up in the fig trees. Ishasha is the best place for tree – climbing lions in East Africa. Not only will we see tree-climbing lions but leopards, elephant herds, buffalo herds, Topi antelopes along with other species and often you will not find many other vehicles in this area of QEP
Lunch at Savannah Resort and then we take 2½ hrdrive to Ruhija area of Bwindi Impenetrable Forest. This plan is very situational as it entirely relies on the weather season of the time you are visiting. There is much difficult accessing this part of the park during rain seasons and it's advisable not to take chances. It doesn't matter what kind of 4×4 vehicle you are using. – Therefore, this game drive is optional and not included at the time of costing this safari.
Meals: Dinner
Optional Activity: Game Drive
---
Day 9: Bwindi National Park
Accommodation: Bakiga Lodge, Bwindi Impenetrable Forest / Similar
Guest will be picked up at the airport and drive to Emin Pasha Hotel, Kampala which is an hour drive. Kampala is Bordering the magnificent Lake Victoria, Uganda's capital city – Kampala – sprawl out over a series of undulating hills and despite the development, this 'Garden City' is known for its tree-lined avenues. This bustling city serves as the commercial hub of the country boasting a blend of African markets, modern skyscrapers, international hotels, bars, and casinos. It provides an excellent base from which to explore the surrounding area. Upon arrival guest can do a City Tour: Depending on your time of your arrival.
Guest can eat Out for lunch and Dinner: Kampala is a town full of culinary wonders. Stray out from your hotel to taste some of the eclectic cuisine of the region including Kampala's delicious Indian food.
Meals: Dinner
Optional Activity: City Tour
Overnight: Bakiga Lodge
Bakiga Lodge is situated in Ruhija, Bwindi, a one and a half hour drive north of Kabale town and just 1km from the Gorilla tracking meeting point. With stunning views across the valley onto Bwindi forest, Bakiga Lodge is an ideal location to base your Gorilla trekking or bird viewing tour, while at the same time supporting community development. The Lodge offers accommodation of 2 twin tents and 2 family Cabins, all self-contained with en suite bathrooms. Facilities at Bakiga Lodge include onsite parking, a restaurant and a bar.
---
Day 10: Bwindi Impenetrable Forest to Lake Bunyonyi (83.6 km)
You will wake up early Breakfast and proceed to the pre-briefing point. Enjoy the highlight of your trip – Gorilla trekking, which may last from 3 to 8 hours. We trek through the rainforest and bamboo covered slopes, accompanied by a Uganda Wildlife Authority guide and other trackers, in search of a mountain gorilla family. The walking can sometimes be tough and long, but when you catch a glimpse of the magnificent silverback, any discomforts will be quickly forgotten. Gorillas move to a new location daily and never stay in the same place, twice. When sighted, visitors will be guided to within 5 metres from the gorillas, sit around them for not more than one hour while gazing into their big round eyes. A party of not more than 8 will be allowed to visit a gorilla family each day. Children under 15 are not permitted. Chances are 99% for you to see the gorillas.
After the trek you just might want to relax, a cold drink and reflect on your adventure And back to The Bush Lodge.
Overnight:  Lake Bunyonyi Eco Resort
Distance: 70.4 km
Time: 2 hr 23 min
---
Day 11: Lake Bunyonyi to Lake Mburo National Park (272.2 km)
You will wake up early Breakfast and Breakfast, and head to Lake Mburo Park that is nearby and another beautiful Park. Check out the lovely Kigezi highlands, the scenery is simply soothing to the eye in the evergreen state of Africa. You can stay at one of the classy up-market tented camps that are eco-friendly and simply one of the nicest places you have ever stayed at or the budget. – Arrive and check in at Eagles Nest Lodge.
After lunch go for the afternoon Boat Safari on Lake Mburo where you will see several other lakes such as Kazuma, Lake Bwa. Gaze at the huge hippos, crocodiles and buffaloes as they drink water. There are attractive birds to check out like Abyssinian ground hornbill, the crested crane (Uganda's national emblem), saddle bill storks among others. You can do an optional guided nature walk.
Overnight:  Eagle`s Nest
Distance: 272.2 km
Time: 4 hr 51 min
---
Day 12: Lake Mburo National Park to Kampala Airport (228.3 km)
This is the last day of tour. You will have Breakfast and a morning Game Drive through the savannah. Check out
---
Included/Excluded
Qualified professional driver guide
Vehicle / fuel
Park entrance fees as per itinerary
Passenger liability 15%
VAT 2% tourism levy
Airport transfers
Accommodation
Breakfast, Lunch and Dinner for the Client
Expenses of personal nature
Entrance fees not mentioned in the itinerary
Meals not mentioned
Drinks at lodges and on road
Optional excursions and activities
Tips for tour guides
International flights and airport taxes
Items not mentioned in the itinerary
All Drinks
How To Book And How To Pay:
To reserve this tour, a payment of 30% of the total price must be made at the time of reservation. The balance of 70% can be made before the departure of your tour.
Your deposit can either be made by means of a Bank Transfer, with the addition of a 45 US Dollar fee, or by Credit Card which incurs an additional bank charge of 3.5%.
Other jobs by admin