6 Day Ngorongoro NP, Serengeti NP & Tarangire NP (Luxury Lodging)
100% Secure
Job is done or money back
You pay only the listed price without any hidden costs.
We keep your money until you are happy with the delivered work.
The job will be done or your money will be returned.
Easy & Safe Payments.
Guaranteed 100% Secure.
You pay only the listed price without any hidden costs.
Do you have any questions about the Tour?
Lets Give you a Call or Email you.
Overview
Type of Tour: Luxury Tours
Duration of Tour: 6 Days / 5 Nights
Tour Details:
This 6-day Ngorongoro NP, Serengeti National Park & Tarangire NP luxury safari allows you to experience the highlights of the Northern Safari Circuit. You will experience wildlife during some of the most diverse landscapes. Monkeys in the forest, lions in trees, elephants amongst acacias, and a huge variety of animals inside a collapsed volcano. You will also visit the world-famous Serengeti National Park. The landscapes are the variety and volume of wildlife you will see are unforgettable.   
Tour Highlights:
Our 6-day Tanzania Luxury Lodge Safari, which design to experience the excitement of game viewing in three of the most spectacular national game parks.
From the comforts of a 4x4 jeep search for lions, leopards, elephants, zebra, and more.
Rive through the Serengeti, known for its wealth of lions and leopards
Trip Facts
| | | | |
| --- | --- | --- | --- |
| Accommodation | Destination | Basis | Duration |
| Mount Meru Hotel | Arusha | FB | 1 Night |
| Kitela Lodge | Ngorongoro Region | FB | 1 Night |
| Melia Serengeti Lodge | Central Serengeti | FB | 2 Nights |
| Ngorongoro Sopa Lodge | Ngorongoro Crater | FB | 1 Night |
---
Itinerary
You will be picked up from the airport by a SAFARI WORLD TOURS Representative and conveyed to your accommodation in Arusha where you will overnight, relax, and prepare in anticipation of the adventures to come. Mount Meru, is a luxury hotel of calm and aesthetic pleasure.
Overnight: Mount Meru Hotel
Distance: 145 km
Time: 2 hr 43 min

---
Day 2: Arusha to Tarangire National park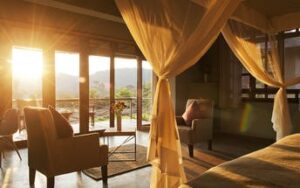 In the morning you will be collected from your lodgings in Arusha by our personal safari guide. We set out for Tarangire National Park on a good tarmac road across gently rolling Maasai plains with scattered acacia trees. As we zip along we pass many Maasai in their colorful dress walking on the roadside, riding bicycles, herding cattle, and driving donkey's carts. Tarangire National Park, well known for its large elephant herds, is also host to a multitude of other creatures. From the open roof of our state-of-the-art safari jeep, we experience the seasonal swamps, savannah, and life-giving Tarangire River, endeavoring to encounter a multitude of creatures, from zebra to wildebeest, buffalo, elephant, and giraffe, to name a few. It is possible we will glimpse lions stalking prey or leopards watching, relaxing in the trees above.
You will drive to one of our carefully selected luxury partner lodges for dinner in a tasteful restaurant, a pool at hand to soothe us, and a most capacious.
Overnight: Kitela Lodge
Distance: 231 km

Time: 4 hr 43 min
---
Day 3: Karatu To Serengeti National Park
After breakfast, you will continue towards the fertile highlands where wheat and corn are grown by the Iraqw people. Along the way, we'll pass through the mist-shrouded rainforests of the Ngorongoro Conservation Area where you might be lucky enough to see baboons or even leopards and elephants in the dense undergrowth. Passing through the Ngorongoro Conservation Area, you will be able to see the breathtaking Ngorongoro Crater before traveling onwards to the Serengeti National Park, which you will reach by midday. The Serengeti National Park is the largest park in Tanzania with diverse landscapes and habitats, such as grassy plains, swamps, lakes, savannah, and mountains. After an extensive game drive, you will drive to your accommodation where you will enjoy dinner and an overnight stay.
Overnight: Melia Serengeti Lodge
You will spend a full day in this incredible place, exploring the park, its animals and incredible landscapes. The Serengeti is the habitat for an abundance of wildlife, such as impala, buffalo, crocodiles and hippos, but is more well-known for its great migrating herds of zebras and wildebeest. The animals' trek is determined by the rainfall and varies from year to year. Apart from the migrating herds, you may see predators, such as leopards, cheetahs and lions.
Overnight: Melia Serengeti Lodge
Distance: 62.2 km
Time: 1 hr 32 min
---
Day 5: Serengeti To Ngorongoro
After breakfast, you will embark upon a final game drive in the Serengeti before traveling to the Ngorongoro Crater. Arriving at the edge of the crater in the afternoon, you will have your first glimpse of what awaits you the following day – glistening streams, open grassland, and an infinite number of animals.
You will spend the night at a nearby Lodge on the Crater rim.
Overnight: Ngorongoro Sopa Lodge
Distance: 87.1 km
Time: 2 hr 32 min
After breakfast, you will drive to the Ngorongoro Crater; the world's largest volcanic caldera. It is almost 20km wide, approximately 610 m deep, and is known for its large variety of wildlife. In addition to the Big Five, the various springs attract animals such as wildebeest, gazelles, reedbucks, and more than 500 bird species. At a picnic site, you will have lunch before enjoying some more game viewing in the crater.
After your afternoon game drive, you will head back to Arusha.
Distance: 119 km
Time: 2 hr 9 min
---
Included/Excluded
Qualified professional driver-guide
Vehicle / fuel
Park entrance fees as per itinerary
Passenger liability 15%
VAT 2% tourism levy
Airport transfers
Accommodation
Breakfast, Lunch and Dinner for the Client
Expenses of personal nature
Entrance fees not mentioned in the itinerary
Meals not mentioned
Drinks at lodges and on road
Optional excursions and activities
Tips for tour guides
International flights and airport taxes
Items not mentioned in the itinerary
Alcohol Drinks
How To Book And How To Pay:
To reserve this tour, a payment of 30% of the total price must be made at the time of reservation. The balance of 70% can be made 30 days before the departure of your tour. Your deposit can either be made through a Bank Transfer, with the addition of a 45 US Dollar fee or by Credit Card which incurs an additional bank charge of 3.5%.
Other jobs by admin