12-Day Best of Tanzanian Wildlife & Kilimanjaro Trekking Safari (Camping) – 12 Days
100% Secure
Job is done or money back
You pay only the listed price without any hidden costs.
We keep your money until you are happy with the delivered work.
The job will be done or your money will be returned.
Easy & Safe Payments.
Guaranteed 100% Secure.
You pay only the listed price without any hidden costs.
Do you have any questions about the Tour?
Lets Give you a Call or Email you.
Overview
This 12-day, guided trip combines Kilimanjaro climb with some of the most popular national parks in Tanzania. Book this trip with us and get the chance to reach the highest point in Africa as well as enjoy game drives in Serengeti, Ngorongoro, Tarangire and Lake Manyara.
Your Tanzania adventure kicks off with a Kilimanjaro climb via the Machame Route. The itinerary has been prepared to allow more time for acclimatization and rest, thereby raising the success rate for making it to the summit. Bring your gear, your enthusiasm, and your smile – we've got the rest! The hike takes you through the heather and moorland zone of the Shira Plateau and up the Barranco Wall. Spend six days in the mountain before heading back to Moshi.
The safari starts on Day 8 with a trip to Lake Manyara. Then travel to the famous Serengeti via the Olduvai Gorge. It was in this gorge that some of the earliest human fossils and footprints were first discovered. Next on the itinerary is the stunning Ngorongoro Crater followed by Tarangire National Park. We will drive you back to Moshi on Day 12.
Tour Highlights:
Climb Mt Kilimanjaro, Africa's highest mountain, via Machame Route
Enjoy game drives in Serengeti & Ngorongoro. Discover the Olduvai Gorge
Visit Lake Manyara & Tarangire National Park
Luxurious & comfortable safari cruiser
Trip Facts
| | | | |
| --- | --- | --- | --- |
| Accommodation | Destination | Basis | Duration |
| Keys Hotels Limited Uru Road | Moshi | FB | 1 Night |
| Machame Camp | Mount Kilimanjaro | FB | 1 Night |
| Shira Camp | Mount Kilimanjaro | FB | 1 Night |
| Barranco Camp | Mount Kilimanjaro | FB | 1 Night |
| Barafu Camp | Mount Kilimanjaro | FB | 1 Night |
| Mweka Camp | Mount Kilimanjaro | FB | 1 Night |
| Machame Camp | Mount Kilimanjaro | FB | 1 Night |
| Panorama Safari Camp | Lake Manyara National Park | FB | 1 Night |
| Seronera Campsite | Seronera | FB | 1 Night |
| Simba Campsite A | Ngorongoro Crater | FB | 1 Night |
| Keys Hotels Limited Uru Road | Moshi | FB | 1 Night |
Key
FB: Full Board – Dinner, Bed, Breakfast and Lunch
---
Itinerary
All trekkers need to organise their own flights to Kilimanjaro International Airport (JRO). From JRO we will arrange a private transfer to your hotel. That night or early the next morning you will meet your representative and have a full pre-climb briefing.
Overnight: Keys Hotels Limited Uru Road
---
Day 2: From Machame Gate To Machame Camp
Transfer from your hotel to Machame Gate for registration. Our porters prepare and pack our supplies and luggage before we start our ascent along the forest trail to Machame Camp at 3000m. We will stay here overnight.
Accommodation: Machame Camp
Journey time and Altitude: 5 hours, 3000 m from Machame Gate to Machame Camp
---
Day 3: Machame Camp To Shira Camp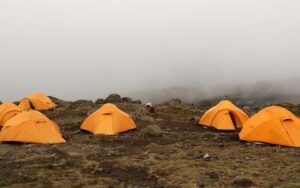 After breakfast we start walking, leaving the rainforest behind, and continue our ascent, crossing a small valley and up to a steep rocky ridge, covered with heather. Our route now turns west into a river gorge until we reach Shira Camp. It will be colder tonight than the previous night with temperatures possibly falling below freezing.
Accommodation: Shira Camp
Journey time and Altitude: 4.5 hours, 3800 m from Machame Camp to Shira Cave
---
Day 4: Shira Camp To Barranco Camp Via Lava Tower
Today we will climb up to 4600m to the base of the Lava Tower for lunch and acclimatisation. This will be our toughest day so far and you may, for the first time, feel the altitude. After lunch we will descend again by almost 650m to Barranco Camp, following the 'walk high, sleep low' golden rue of acclimatisation. Our descent to Barranco Camp takes about 2 hours and offers great opportunities to take some beautiful photographs of the Western Breach and Breach Wall. The camp is situated in a valley below the Breach and Great Barranco Wall.
Accommodation: Barranco Camp
Journey time and Altitude: 7 hours, 4627 m from Shira Cave to Barranco Camp
---
Day 5: From Barranco Camp To Karanga Camp
A short, but fun, day starting with a scramble to the top of the Great Barranco Wall. We then traverse over scree to the Karanga Valley (3930m) beneath the icefalls of the Heim, Kersten and Decken Glaciers. We will stay overnight at Karanga campsite.
Accommodation: Karanga Camp
Journey time and Altitude: 4 hours, 4787 m from Barranco Camp to Karanga Camp
---
Day 6: Barafu Camp To Summit To Mweka Camp
You will be woken around 23:30 with tea and biscuits. We start our trek to the summit between the Rebman and Ratzel glaciers through heavy scree up to Stella Point on the crater rim. This is the most mentally and physically challenging part of the trek. At Stella Point (5732m), we will stop for a short rest and hopefully be in time to witness the magnificent sunrise (weather permitting). We are now only an hour away from the summit, Uhuru Peak (5895m), the highest point on Mount Kilimanjaro and the continent of Africa. From the summit, we descend down to Mweka camp site, via Barafu for lunch. Trekking poles will be needed for the loose scree going down to Mweka Camp (3100m). Later in the evening, we will enjoy our last dinner on the mountain and a well-earned sleep.
Accommodation: Barafu Camp
Journey time and Altitude: 4 hours, 5287 m from Karranga Camp to Barafu Camp
---
Day 7: Mweka Camp To Mweka Gate
Your final day on the trek, departing after breakfast we descend a further 1300m to the Mweka Park Gate to pick up your summit certificates from the Park Headquarters. Transfer to your hotel.
Accommodation: Machame Camp
Journey time and Altitude: 5 hours, 3000 m from Machame Gate to Machame Camp
---
Day 8: Moshi To Lake Manyara
Our safari guide and vehicle will collect you from your hotel and we will drive to Lake Manyara, arriving with plenty of time for an afternoon game-drive. Located beneath the cliffs of the Manyara Escarpment, on the edge of the Rift Valley, Lake Manyara National Park is famous for its large alkaline soda lake which is home to the pink flamingo, yellow-billed stork and heron. If you are lucky you may get chance to see the tree climbing lions, which are unique to this national park. Watch out though for some fun and antics from the local baboon population; Lake Manyara is believed to have the largest number of these primates in the World! We will spend the night at a safari lodge in Karatu.
Overnight: Panorama Safari Camp
Distance: 200            km
Time:4 hr
---
Day 9: Lake Manyara – Serengeti Plains
After breakfast we head towards the Serengeti National Park, via the beautiful high lying farmland of Karatu and the Ngorongoro Conservation Area. Leaving the highlands behind, we descend into the heart of wild Africa – the Serengeti National Park – with its endless plains, rolling into the distance as far as the eye can see. We head to the central park area, known as the Seronera area, one of the richest wildlife habitats in the park, featuring the Seronera River, which provides a valuable water source to this area and therefore attracts wildlife well representative of most of the Serengeti's species.
We arrive in time for lunch and enjoy an afternoon game drive in the Serengeti national park.
Dinner and overnight in the Seronera area, as per the standard accommodation.
Overnight: Seronera Campsite
Distance: 205 km
Time:6 hr
---
Day 10: Serengeti Plains – Ngorongoro Crater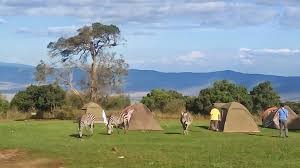 Be one of only a few fortunate people to glide in a Hot Air Balloon over the Serengeti Plains (available at supplementary cost by pre-arrangement). Floating silently above the awakening bush, while spotting wildlife and enjoying the amazing scenery of Africa, across rivers and over numerous small villages.
After breakfast at the lodge do early game drive in Serengeti and around afternoon we depart to Ngorongoro Conservation area. We arrive in time for dinner at the lodge/campsite and spend overnight.
Overnight: Simba Campsite A
Distance: 145 km
Time:4 -5 hr  min
---
Day 11: Ngorongoro crater – Moshi
After early breakfast we will descend over 600 meters into the crater to view wildlife for a half day's safari tour. Supported by a year round water supply and fodder, the Ngorongoro National Park supports a vast variety of animals, which include herds of wildebeest, zebra, buffalo, eland, warthog, hippo, and giant African elephants. Another big draw card to this picturesque national park, is it's dense population of predators, which include lions, hyenas, jackals, cheetahs and the ever-elusive leopard, which sometimes requires a trained eye to spot. We will visit Lake Magadi, a large but shallow alkaline lake in the southwestern corner, which is one of the main features of the crater. A large number of flamingos, hippos and other water birds can usually been seen here.
In afternoon get lunch at your lodge after which we will transfer back to Moshi.
Overnight: Keys Hotels Limited Uru Road
Distance: 273 km
Time: 4 hours
---
Day 12: Arusha to Mount Kilimanjaro
After breakfast you can depart for JRO Airport
---
Included/Excluded
Qualified professional driver guide
Vehicle / fuel
Park entrance fees as per itinerary
Passenger liability 15%
VAT 2% tourism levy
Airport transfers
Accommodation
Breakfast, Lunch and Dinner for the Client
Expenses of personal nature
Entrance fees not mentioned in the itinerary
Meals not mentioned
Drinks at lodges and on road
Optional excursions and activities
Tips for tour guides
International flights and airport taxes
Items not mentioned in the itinerary
Alcohol Drinks
How To Book And How To Pay:
To reserve this tour, a payment of 30% of the total price must be made at the time of reservation. The balance of 70% can be made 30 days before the departure of your tour. Your deposit can either be made through a Bank Transfer, with the addition of a 45 US Dollar fee or by Credit Card which incurs an additional bank charge of 3.5%.
Other jobs by admin